ARES Deployment for Irma - Carrollton, GA
Details

Category: EmComm
Written by Blake Raab (N4BWR)
Hurricane Irma crossed into Georgia as a tropical storm, leading to a tropical storm warning (the first in Georgia's history) on Sunday. Our ARES (Amateur Radio Emergency Service) group was asked by the county EMA how many operators we could have ready, so the call went out, and we began to prepare for deployment. 
Since I'm on the small team assigned to work the ham radio station at Tanner Medical Center in Carrollton, and am in the rotation for the statewide hospital ARES nets, I pretty much knew where I was going. I arrived at Tanner shortly before noon and met up with John (WD8LQT). We quickly got the radios set up and then left the radio room for our next destination. We had agreed to be there just before noon, because several key events were happening. First, both the county and hospital EOCs (emergency operations centers) were opening at noon. Also, there was to be a WebEx video conference for both locations in which the National Weather Service would outline the predictions for the storm's path, as well as what the state could expect for wind and precipitation that day. As I sat down for the conference, I had to chuckle at a sight that rang a few bells... a little real-life brush with the Incident Command System.
After the weather briefing, we headed back to the radios and attempted to check in and monitor the state ARES net. Because of a technical difficulty, the state ARES had to change the D-STAR reflector at the last minute. Because of our own technical difficulties, we were unable to maintain a connection to that reflector from the hospital site. As the saying goes, "No ARES plan survives first contact with the first tropical storm in recorded history"...or something like that. Huge thanks go out to Wayne, KM4BYH, for stepping up and checking us into the new reflector remotely, and keeping an ear out for activity there for us. 
 John headed over to the Carroll County EMA's emergency operations center and worked from there for the rest of the day. He even got his picture taken and tweeted by the @CarrollGA_EMA Twitter account.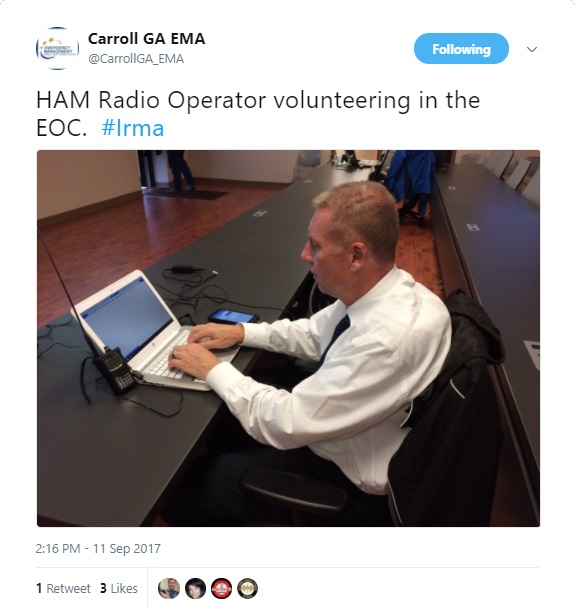 Since I was working in a small room that only Security could access, I took things into my own hands for a photo opportunity.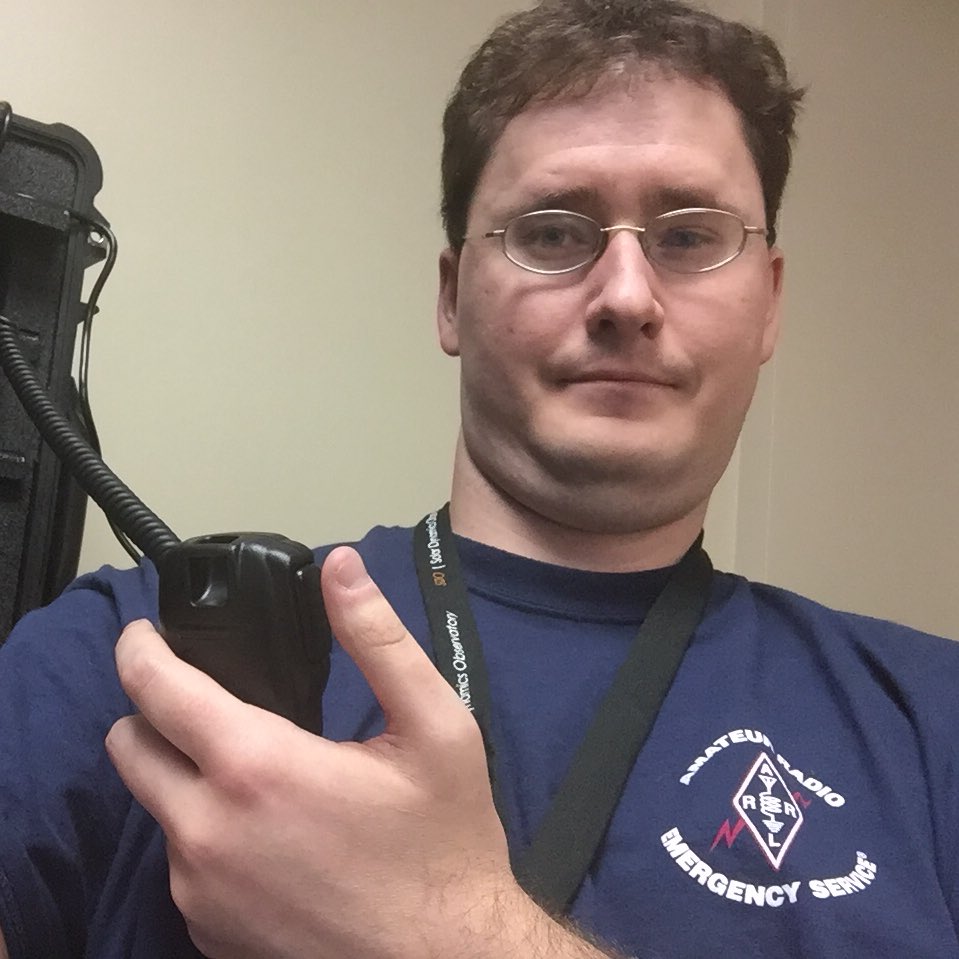 Fortunately for everyone involved, critical communications never went down, so our ham radio operations were limited to monitoring the local repeater, Skywarn severe weather nets on Echolink, and in John's case, the incoming 911 calls of downed trees and power lines that were being projected on the wall in the EOC. Being a fairly uneventful deployment, it was a perfect opportunity to show our served agencies that we can respond when called upon, and to test ourselves and our equipment. We proved that our group can adapt and overcome sudden difficulties, and we learned a few things that we can improve upon for next time.